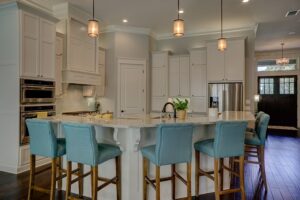 The kitchen, aka the hub of the house.  Even if you do not regularly whip up homemade meals or have an inner Martha Stewart who entertains throughout the year, this one room is indeed the center of all household activity.  From meal prep to kids' homework area to eating to the family Inbox, the kitchen needs to serve multiple functions.  Dreaming of a more organized kitchen but need a recipe to get there?  Look no further….
ASSESS: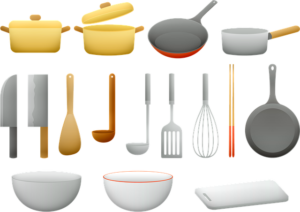 Stand in the middle of your kitchen and take a good look around.  Truly assess how much storage you have available.  Lots of drawers and cabinets or not enough?  Separate pantry or do you need to dedicate some of those precious cabinets for food storage?  One by one, open each and every drawer and cabinet and slowly take in the contents.  Is it a designated space, such as the silverware drawer or Tupperware cabinet or is it a mish mash?  Are those items in the most convenient location and easy to access?  Do you need to pull out every pot and pan  in order to get the one you need?  If you like what you see and feel that the contents are in the appropriate location, close it.  If not, leave it open.
TIME FOR A REDO:
Now it's time to concentrate on the drawers and cabinets that are not working well.  One by one, empty out the contents of each.  Sort and see if there is any purging to be had.  Most likely there is.  Tupperware bottoms without tops?  How many sets of measuring spoons do you really need?  Chipped coffee mugs made by your kids for Mother's/Father's Day?  Pampered Chef items that you thought you must have but have never actually used?  (No offense PC, I love my PC products but I do use mine.)
What needs to be relocated?  Basic kitchen locations include:  silverware near the table or dishwasher, glasses near the refrigerator for getting ice and drinks, pots and pans in the widest drawer near the cook top, heavy items in areas at waist level height or below, rarely used items up high or in the back.
Do you need organizing products to divide a drawer, cabinet shelves that allow you to maximize shelf height, pull out drawers for easier access?  Not sure what you need?  Check out Pinterest and/or store websites such as, The Container Store and Bed Bath & Beyond for pictures and ideas.  And of course, there are us Professional Organizers who can assess your space and make recommendations.  Contact Put It There, www.put-it-there.com, or search the NAPO website for an organizer near you, www.napo.net.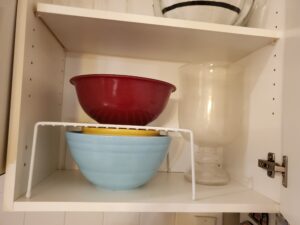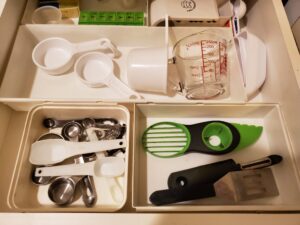 MAINTAINING:
If you share kitchen duties with other members of your household, either have them provide input when making changes or be sure to give them a tour when you are done.  If you want everyone to help unload the dishwasher, put away the groceries, set the table and not leave things out on the counters, then show them where everything lives.  And, of course, labels go a long way to help in reminding everyone too.
After about a month, re-assess.  Better?  Some items still not in an ideal location?  Keep tweaking until you get it!
Regularly, clean out the refrigerator, pantry and freezer of old, expired items.  Wipe out cabinets as crumbs and residue easily collect, and we certainly don't need unwanted guests.
Kitchens can indeed be a challenge with large items, lids that don't stack or nest easily, handles that get in the way, and appliances that take up a lot of space.  However, your organized kitchen can be whipped up with some honest assessing, good space planning and regular maintenance.